Former Horizon student Skylar Szynski picked in 4th round of MLB Draft by Oakland A's
Posted on June 10, 2016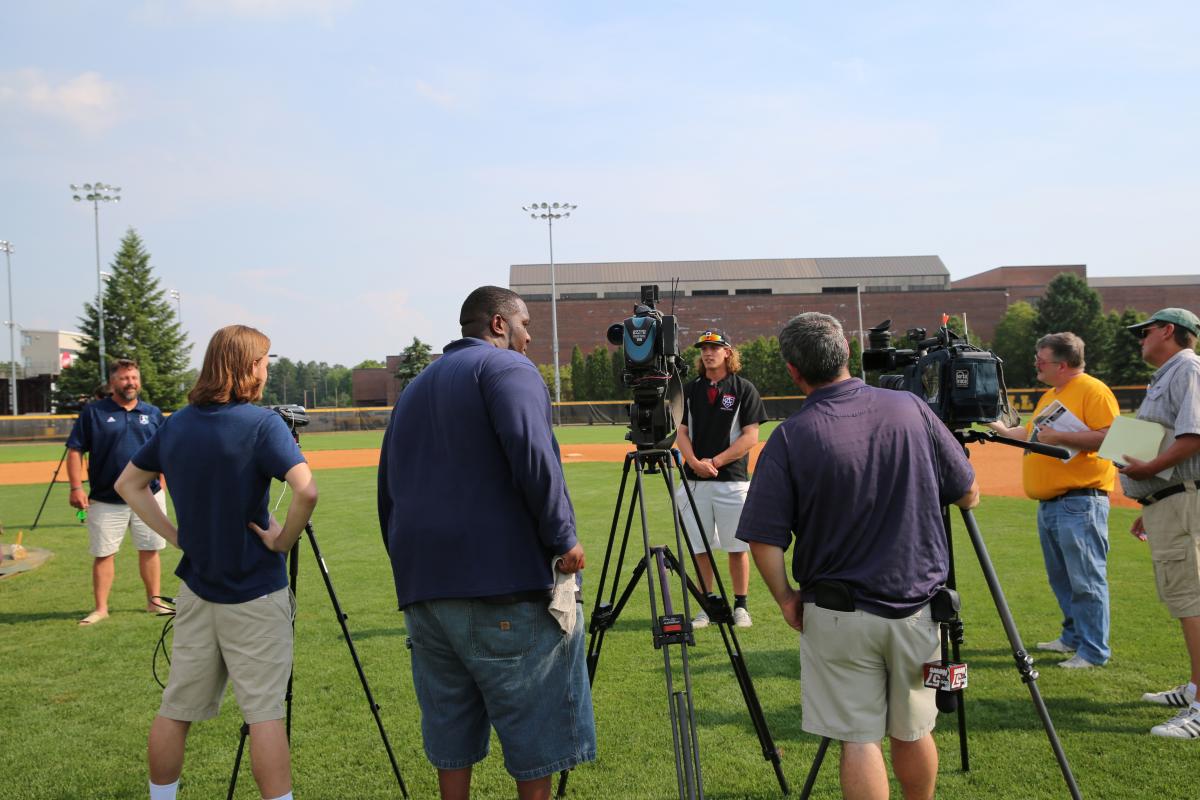 (June 10, 2016) It seemed assured that 2016 Penn High School grad Skylar Szynski would be drafted this year to play for a major league ball club. Known for his amazing fastball and great composure on the mound, last year he led the Penn Kingsmen to the IHSAA Class 4A State Championship. Of course the unknowns surrounding the draft were "In what round?" and "By which team?"
Those questions were answered Friday afternoon, June 10, 2016 when he was picked in the fourth round by the Oakland A's (Oakland Athletics). Skylar was not in New Jersey for the event, nor was he watching from home with friends and family. He was practicing with his high school teammates as they prepare for this year's Semi-State contest. (Penn will take on the Zionsville Eagles at noon on Saturday, June 11, at the Kokomo Municipal Stadium.)
As anticipated, Szynski was taken in the early rounds, being the 6th pick of the 4th round, and the 112th draft pick overall. MLB commentators had this to say about the A's recruit: "He has a quick arm and a strong frame…… consistent delivery of the fastball… great aptitude for the change-up." They concluded, "There is little doubt he can make it as a starter in pro ball."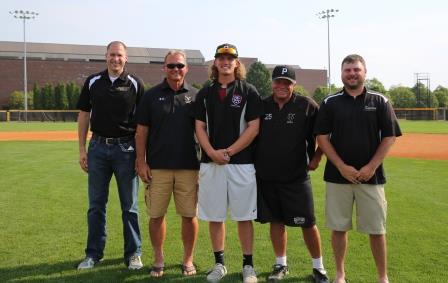 Major League scouts have had eyes on Skylar (6-2, 207 lbs.) for a few years now. The right-hander pitched a perfect game, retiring 21 batters, while still a sophomore at Penn, and he has attracted attention ever since. With speed guns in hand, no less than 20 MLB scouts have attended games this season to record Skylar's 95 MPH pitches and to observe his play as a right fielder. The 2016 season wrapped with a 10-game winning streak for Szynski and the Kingsmen, followed by strong post-season play.
In the preseason, Szynski was named to the 1st team senior preseason All American team. This list recognizes the top 50 seniors around the country as they enter their final season in their high school career.
Szynski's 2015 honors include pitching in the prestigious Area Code Games in California, the East Coast Pro showcase in Fla., and the Jupiter (Fla.) World Wood Bat Tournament. His 2016 honors include being named the Northern Indiana Conference MVP. Skylar, son of Brent and Robin Szynski of Granger, Indiana, is an Indiana University commit. He has not made a decision yet abou the Oakland A's or Indiana University. He has attended Penn-Harris-Madison Schools for his entire K-12 school career, including Horizon Elementary School from 2002-09 and Discovery Middle School, 2009-12.
This highlight sheet includes Skylar's stats and other facts about the outstanding Penn baseball program led by Head Coach Greg Dikos for the past 29 years. The program has garnered four State Championships to date (1994, 1998, 2001, 2015—with the 2016 title to be determined on June 18).
This year the Kingsmen offered player trading cards to their fans and boosters, and found that they were especially popular with younger P-H-M students playing in area youth leagues. Many youngsters had their cards signed by the ball players. Some day those Sklyar Szynski cards may be highly collectible! Click here to download your copy of Skylar's card.
---

About Penn-Harris-Madison School Corporation
Penn-Harris-Madison School Corporation serves approximately 10,700 students in 11 elementary schools, three middle schools and Penn High School. P-H-M's six "Four Star schools" for the 2015-2016 school year, as named by the IDOE are: Horizon Elementary, Mary Frank Elementary, Prairie Vista Elementary, Northpoint Elementary, Discovery Middle, and Penn High School. 100% of our teachers rank either highly effective or effective. P-H-M's 2015 ISTEP+ results placed the District 10th in the state among 293 public school districts. P-H-M has been rated an "A-rated" school district by the Indiana Department of Education for six years in a row. Penn High School's graduation rate exceeds the state's with a 97% graduation rate earning the High School national rankings by both the Washington Post and U.S. News & World Report as one of "America's Most Challenging High Schools" and "Best High Schools." Penn's STEM Academy is a Fully STEM Certified Program by the IDOE—making it the first large, comprehensive public high school in the state to achieve this elite status! To learn more, please visit www.phmschools.org.
Last Modified January 4, 2019